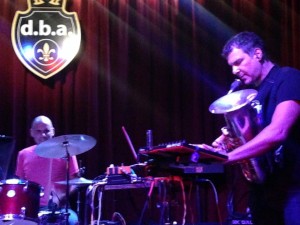 Here are a few tracks from the yet to be released new album:
click here to listen to: "THIS IS THE POINT"
click here to listen to: "SE MALULE"
click here to listen to: "KEVINESSENCE"
Drums and Tuba is the original and foremost progenitor of the deep, dark and harmonious world of electronic, industrial, tuba rock. Drums and Tuba is Tony Nozero on drums and multi-instrumentalist Brian Wolff on tuba, trumpet and electronics. Founded in 1994, the duo pioneered crude forms of live looping to create a symphonic mash up of deliberate songwriting and improvisation in a myriad of different musical styles.
Before the use of laptops crested in live performance, Drums and Tuba shows were a labyrinth of crisscrossing mics, cables, and amps as they toured relentlessly for more than a decade. Their curious genre-bending style allowed for flexibility and quickly covered ground in many different scenes, playing shows/tours with Primus, Galactic, Cake, Ani DiFranco, Unwound, Steel Pulse, Ween, Oysterhead, and many others.
After five self-released LPs in their catalog, they inked a deal with Ani DiFranco's Righteous Babe Records and pushed out 3 albums there.  In 2005, while the band was out on a three-month tour, Hurricane Katrina decimated the band's home base of New Orleans. In the aftermath, Nozero took some time off of music. He put down the drumsticks to pick up paintbrushes, quickly becoming the buzz of the New Orleans art scene. Wolff continued riding the popular wave of electronic, industrial, tuba rock that was sweeping across both the nation and the world by forming a solo act under the moniker Wolff and Tuba.
In 2017, after years of badgering, Wolff worked up some new tunes that Nozero simply could not resist being a part of. What does it mean for the world to have Drums and Tuba back?  It's hard to say exactly. The brilliance of D&T is that since they were always deeply opposed to reunion shows they were able to outwit the future by never technically breaking up in the first place. So let's not imagine this as a reunion, but rather as a time jump into the future. The present being a time that is as loopy as any time in our nation's history and therefore, more than ever, is in desperate need of the looping of tubas.
Old time press links (for newer Wolff and Tuba press links go to http://www.wolffandtuba.com/bio.php and click on the reviews tab):